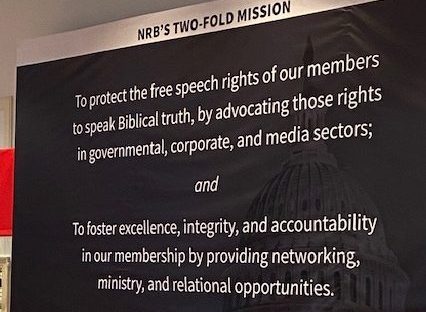 March 2022

Buoyancy's View of NRB 2022

Nearly 3500 professional media, communications and ministry representatives gathered last week at NRB 2022 at Nashville's extraordinary Gaylord Opryland resort and convention center.

Buoyancy was blessed to have four authors to assist. They all had book signings and interviews and we all worked hard and long hours to meet people, share the story of their ministries and books, and interview as well as make media contact for future interviews. Buoyancy was one of nearly 170 exhibitors, and having our own booth provided the opportunity to have book signings, as well as giving significant exposure for the authors and their books.

So far a total of 52 interviews have resulted from our time there – most over the three days – but some before NRB and several after NRB. I believe that is a record for us for four people.

The entrance to the expo hall this year featured the mission of the NRB organization, of which Buoyancy PR is proud to be a member.


NRB 2023 will be in Orlando on May 22-25, 2023, at the Marriott Orlando World Center. If you have a book that hasn't been introduced to the media at NRB, make a note of these dates and consider this as you plan for 2023. Buoyancy PR plans to be there, Lord willing, so watch for more info as time goes on.


Next up in terms of Christian trade shows good for authors will be the Christian Product Expo summer show in Lexington on August 14-16. That is a much smaller gathering but is a gathering of bookstores who are there to place orders for books, especially new ones. There is also some Christian media there, with hopes to have that number increase.

In the Buoyancy shop, we are just starting to make plans for that, so more to come soon on ways to participate with us in Lexington.

In coming weeks, more thoughts on ways to enhance your Author Journey and more tips on working with the hardworking Christian media. It was, as always, an honor and privilege with work with them last week in Nashville.

Originally sent as an email to the Buoyancy community on March 18, 2022.