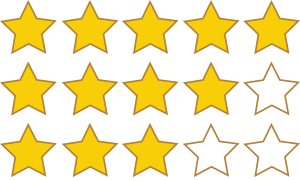 May 2021

Those Important Online Book Reviews

But how do you actually do them?

If you do any online shopping yourself, you probably have read reviews to see what other people thought about the coffeemaker or reading lamp you are considering.

Many people are totally comfortable with this, and probably write a product review with one hand while ordering their groceries online with the other.

Those nimble-fingered folks don't need the rest of this article.

And while those folks might be quite surprised to learn that some people have never even used an online shopping site, others of my clients say they want to ask colleagues or friends from church for a review except those people don't know how to do them.

That's what we are going to take care of today.

I'm not an expert in this topic, but happy to share what I've learned.

As far as I know, the main online booksellers all accept reviews. While I don't know the rules for all of them, the largest of these sites doesn't require that you purchase a book in order to write a review about it.

What they do require, however, is that you are an Amazon customer, which I think means pretty much everyone in the whole world who has a device. But actually, their definition is that you've spent at least $50 on Amazon over the past 12 months.

They have some other requirements also, that are intended for the good of everyone, and that includes not paying for a review, nor having reviews done by family members.

One key difference about book reviews, vs reviews for other products, is that there is a long-standing tradition in the industry of publishers giving books to readers with the expectation that they will write a review. That's not considered paying for a review.

Over the years I've worked with a lot of book bloggers and many of them have a standard sentence you may have seen that says something like, "I received this book from the publisher (or author) in exchange for my honest opinion."

And while you don't have to have purchased the book to write a review, Amazon does have a category called an Amazon Verified Purchase review which means what it says – the reviewer purchased the product from them.

How does one actually do a review?

For starters, get on the online bookstore site, and find a book you'd like to review. Each site is set up a little differently, but at Barnes and Noble and Books-a-Million, for example, there is a button high up on the book listing on the right that says, "WRITE A REVIEW." The largest of the online book retailers currently has that button way way down the listing in the Customer Reviews section on the left side of the page with a button that says, "Write A Customer Review."

Then with each of them you follow the prompts to fill out the number of stars you are giving the book, your name as you want it to appear (doesn't have to be your real name, can be a nickname), and a couple of sentences of opinion.

Don't miss that last part – and be sure to pass that thought along to those you are asking to do a review. You just need one or two sentences.

This isn't a book review assignment in high school English class. No one has a check list to make sure you covered all relevant points like plot pacing, character development and so forth. No, this is simply a couple of sentences. No one checks the grammar or spelling. The key is that the comments are supposed to be your own honest opinions, and note they don't all have to be entirely positive, though most people try to include something positive even if they didn't really care for the book.

Then once you get the wording the way you want it, you hit enter or submit and wait. Don't worry that you don't see the review immediately — the reviews go through some vetting process that typically takes a few days.

Don't be shy about asking people to write a review for you. The general advice is to get 20-25 reviews at a minimum, and 50 is even better. My other bit of advice is that people are well-meaning but need to be reminded to get these done. Most folks have no idea how important these reviews are to an author. So if you are not comfortable nudging them, ask a close friend or family member to take on that task.

For all the details from Amazon, check this out:

Amazon.com Help: Customer Reviews

Originally sent as an email to the Buoyancy community on May 21, 2021.