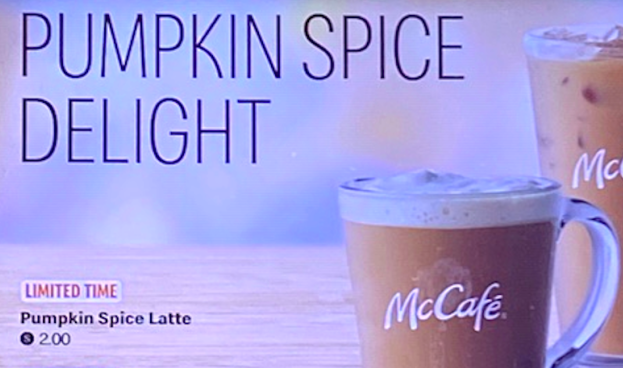 September 2021

Pumpkin Spice

It's slipped into September, and here in southern Ohio, the weather this week is letting us know it remembers how to make things cooler and crisper. It's gorgeous, if you are ready to part with summer. [And if you'll forgive us for not having had the horrible weather other parts of the country have faced in recent days.]

But I'm not ready for what comes next.

Pumpkin spice is back. I might even be late at discovering this, but like it or not, it's here. This morning I confess to being in a drive through line and seeing this shocking-to-me image.

Can't stand the stuff myself. I love the look and shape of pumpkins, but I like my pumpkin to stay where it belongs (in pie) not as a flavor in coffee or hot tea.

Why are we talking about this?

Because while the financial type business people get jazzed up about "fourth quarter" and planning for 2022 (and we'll get to that when we get closer to October), for regular people – and that likely includes your customers or readers – autumn rolls right into winter holidays and shopping. The signal for the starting gate is pumpkin spice. You've been seeing the ads for sweaters and noticing the candy corn in the store, right?

The question for you today is: what are you doing to prepare to make the most of this with your book or business?

Whether your book is old or new, you need to keep marketing it. This is a great time to develop your plan to contact people to remind them about the book or books you have that would make a great Christmas gift. Similarly with your product or service.

Contact them how? How is your social media audience?

Going to purchase advertising somewhere? Where? When? Is the ad designed?

Or do you intend to reach out to those on your list with a flyer? Have you designed the flyer? How updated is your list?

And don't forget about showing up in person – such as at fall festivals and events.

And what about the product or book itself – time for special pricing or two-for-one deals and Christmas packaging?

Sorry for all the questions. Just trying to get you thinking.

So grab that pumpkin spice latte and get brainstorming.


Originally sent as an email to the Buoyancy community on September 3, 2021.