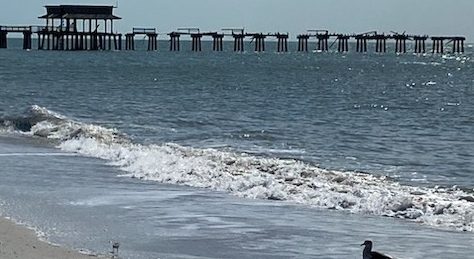 November 2023

A Reminder About Perseverance

It might look fine to you, but the photo above shows the shell of the iconic Naples Pier in southwest Florida just a little over a year after Hurricane Ian caused "catastrophic damage," leaving all but 100 ft of the 1000-foot pier unusable.

Again.

The landmark pier, which sees more than a million visitors each year, holds a special place in the affections of the residents of this beautiful and prosperous city on the Gulf of Mexico. The pier is a great place to fish, to see birds and sea animals, and to watch a sunset with friends or fireworks on the Fourth of July.

Yet the pier has been damaged or destroyed by hurricanes at least six times since it was first constructed in 1888.

In this part of the country where hurricanes are casually referred to by just their first name, the pier had lasted more than 50 years when it was reconstructed in 2015 to much fanfare to bring new enhancements. But it was almost immediately damaged first by Hurricane Irma in 2017 and then by Hurricane Ian in 2022.

A year later, visitors and residents await the reconstruction of the city's favorite gathering spot.

And why should this matter to you?

Because of the model this is of resilience and holding on, fighting back, despite repeated setbacks that will continue as relentlessly as waves pounding the shore.

For the past week or so we've been working from Naples and finally got down to see the beach and what is left of the pier.

It was shocking to see the shell of its former glorious self.

But it's all moving forward in methodical fashion.

And so should we.

We've all got frustrations and setbacks, challenges that seem insurmountable, in our work and ministries.

If it's important, we persevere. And we rebuild, as many times as it takes, to keep moving toward our goals and the mission God has given.

So, if today you feel it's all impossible, think again. Remember who you serve and who is able "to do immeasurably more than we can hope or imagine."

Originally sent as an email to the Buoyancy community on November 3, 2023.