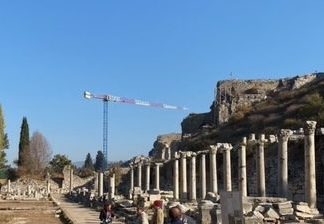 December 2022
Are You Like the Apostle Paul?
As we all wind down on the year and assess where we are and set targets for where we want to go in 2023 in life, faith, business, and writing, I wanted to share one more reflection from the experiences I had visiting the land where Paul worked and ministered and the church fought through cultural views to introduce the wonderful Good News of the gospel.
I'm recently back from more than 3 weeks away, mostly in Turkey and Greece, following the footsteps of Paul and seeing recovered ruins of cities we know from mentions in the Bible, cities like Corinth, Philippi, Thessalonica, Laodicea, and Antioch, as well as Ephesus, Athens, and Jerusalem. While all of these in-the-footsteps-of experiences left me with many impressions to sort out, one prevailing one is that the geographic area, while strategic and powerful, is small relative to the world and these brave witnesses to their faith were individual people just like us who, empowered by the Holy Spirit, changed the world by changing minds, one person at a time.
And at least some of them—were also writers.
Some of that inspired, sacred writing still changes lives today in God's hands in our Bible, but it started with real people interacting with others, and in Paul's case, risking life and limb.
But it changed my views of it and my view of my own responsibilities to my world seeing where it happened.
In Ephesus where Paul likely worked and had a market stall to do tentmaking, which in those days was leather working, the city was powerful and influential in its time. Our guide reminded us the marble slab streets we walked on, recovered where they were, were walked on by Cleopatra and Antony, as well as Paul.

The white columns in the photo above are standing in the area they believe was the Agora, or marketplace, which dates centuries earlier, so where Paul most likely did business and engaged those Ephesians in discussions of their gods. The Agora is just below the theatre, likely the theatre where the riot broke out (Acts 19) over the silversmiths loss of trade from selling images of Artemis, the favorite local god, when so many began believing the claims of the gospel.
That theatre has also been discovered and reassembled, and I sat in it.
But to be honest, while I don't have a vision for how far and wide the city would have gone in Paul's day, these central spaces are fairly compact. While the size of the theatre was amazing, overall, none of these spaces were huge.
Yet from this work over a relatively short amount of time, decades not centuries, the church was launched and the world was forever changed.
I'm spending much of this month in my own planning and must admit, these images are impacting how I'm viewing my own life and what I'm willing to sacrifice to share in God's work. It is also prompting new thoughts about the work I help authors with.
God still uses individuals to impact other individuals, hearts still change one at a time, and He reminds us, especially in this advent season of preparation, that He is with us.
Originally sent as an email to the Buoyancy community on December 2, 2022.