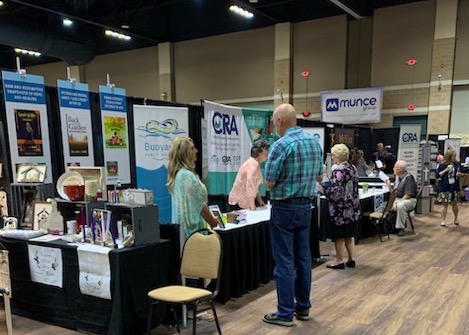 June 2023

CPE: Bringing Your Book?

Bringing your book to the Christian Product Expo

There's some good news in the world of Christian retail. In a news update to the Christian Retail Association community this week, executive Christy Dollins reported that exhibition booth reservations for the association's August Christian Product Expo (CPE) are at a higher level. Then later in response to my question, she reported that registered media participation also appears to have increased over last year at this time.

For a struggling industry hard hit like many others by the pandemic, that return to more robust participation levels is good news indeed.

And how does this relate to you as an author?

If you have a book that hasn't been presented to Christian bookstores at CPE, this might be something you ought to consider as one part of your book selling strategy.

Some authors will sell most of their books at the back of the room after they speak, or in their church bookstore if they are a pastor or on staff as a ministry leader. Others will sell exclusively online and publish through Amazon. To my amazement, I know there are even some authors who actually don't know there is any other way to publish other than this. Books on paper seem a strange and antiquated idea to them.

But most indie authors I know seek to sell books through multiple channels, as these options are called, and so work with their publisher on finding locations where their books can be sold, not only online but also often in bookstores.

The CPE shows, which describe themselves as "where the industry does business," offer authors an entrée into the friendly, Christian but still businesslike world of Christian retail. The CPEs are attended mostly by independent retailers who have a Christian book and gift store, or a store that dedicates at least part of its space to selling Christian books and other products.

Those are the people who will be gathered August 6-8 at the Central Bank Center in Lexington, Kentucky. On the exhibit floor, publishers and book sellers, plus companies that offer Christian products like gifts, cards and even toys, will be hard at work taking orders from the bookstore representatives who are there to purchase products for later retail sale.

But the goal of the CRA organization is also to support these retailers in their Christ-centered mission to serve Him through their stores. That means there is also an abundance of worship, training, and networking opportunities designed to bless and encourage these hardworking folks until the next show comes around.

And as alluded to above, some Christian media also show up to interview authors for their radio shows and podcasts.

Into that mix, Buoyancy PR also attends to assist authors with promoting their books.

We do this in two ways – by being an exhibitor highlighting some author clients in our booth, and by seeking and coordinating media interviews for authors. Authors can opt to participate in one or both services.

Publisher booths are busy places with many books on display and the publishers focus on appointments they have set with bookstores to review books and write contracts for book orders. They may participate in some events to promote their authors, but on the whole, they need to keep their focus on those book ordering appointments.

But for authors, one of the greatest benefits to being at CPE is the opportunity to meet those bookstore owners and get to tell them about their books. So, the Buoyancy PR booth (shown above at the 2021 show) provides a small group of authors with an opportunity to showcase their books, and a place to work from to meet people. Each participating author will have a large graphic panel featuring their photo and their book cover, with space to display multiple copies of all of their book titles and sales material.

For many authors, the ability to have a large graphic and space to meet people is of interest even though their publisher is also exhibiting and will be handling their orders.

On the media side, Buoyancy PR understands how to prepare materials the media needs and how to work with them to obtain and then coordinate resulting interviews.

For some authors with one or more books to promote, CPE is an obvious fit.

However, if you are just getting started, you may be just looking ahead to a future year when you'll want to have your book at CPE. Anyone can attend for the price of registration, so you still may want to come to at least a day of CPE to learn more about the industry and begin to make contacts, meet publisher representatives, and see what God has in store for you on the next step of your author journey.

Let us know how we can help you along that way.

Originally sent as an email to the Buoyancy community on June 16, 2023.