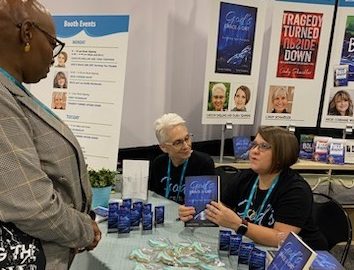 August 2023

CPE Report: Overwhelmed…. or Overflowing?

Buoyancy PR participated in the Christian Products Expo, CPE, sponsored by the Christian Retail Association. As an exhibitor, we highlighted three authors in our booth who were there in Lexington to meet booksellers at book signings and during exhibition hours.

CPE bills itself as "Where the industry does business," and that of course was the primary purpose, as hundreds of bookstore representatives met with publishers and gift vendors to learn about and order product for their stores.

For authors, it was a rich experience learning about the industry as well as meeting one another. There were training sessions and pre-conference special meetings they came in to attend.

It's an honor to support our author clients. In addition to a big, Sunday night many-author book signing event, we had book signings and author Meet' n' Greet times at our booth, like the one pictured below with Carolyn Snelling and Tiarra Tompkins, authors of the newly released book, God's Grace and Grit: Surviving Your Fairytale.

But in addition, authors working with Buoyancy were also able to meet and interview with Christian media in attendance. Prior to CPE, we had worked hard preparing press kits and reaching out to Christian media to schedule interviews ahead of time. On site, we also helped those authors with coordinating as there are sometimes new opportunities for interviews or changes that need to be made.

Overwhelmed was one word some authors used to describe how they felt about all that they learned and experienced, though they said it with a smile.

Overflowing might be more accurate, I think, and it's how I felt too, making new contacts with people who have ways to serve Buoyancy's author clients, as well as meeting authors who stopped by our booth and wanted to learn more about Buoyancy PR's services helping Christian authors increase their discoverability.

We do that all year around, of course, with media all over the country, not just at events where we have the privilege to see each other face to face and for authors to interview in person.

But from where I sit, for 2023-24, the in-person events seem to be coming one right after the other.

It was less than three months ago that we were in Orlando, participating in the National Religious Broadcasters convention, NRB, the national tradeshow for Christian media and those who support that industry. In 2023 it was held in late May, a little later in the year than usual.

Our authors there each had more than a dozen interviews over a few days, plus a book signing on the exhibition floor with publicity by NRB. We are still following up on media and podcast contacts made there for our authors and continuing to schedule interviews.

However, from here, believe it or not, we are starting work on NRB 2024, coming up Tuesday – Friday, February 20-23, 2024, in Nashville at the Gaylord Opryland Hotel.

Does that seem like a long time away?

Well, it's really not. The way we serve our clients for NRB starts a couple of months ahead of time, so our planning is starting to ramp up. We will need all the commitments in by the end of the year as active work will begin in early January. If you are interested in this incredible opportunity, please let us know and we'll send you the information when available.

So that overflowing feeling is not just for authors. It feels from here like a new busy time with exciting opportunities ahead is now underway.

Originally sent as an email to the Buoyancy community on August 11, 2023.