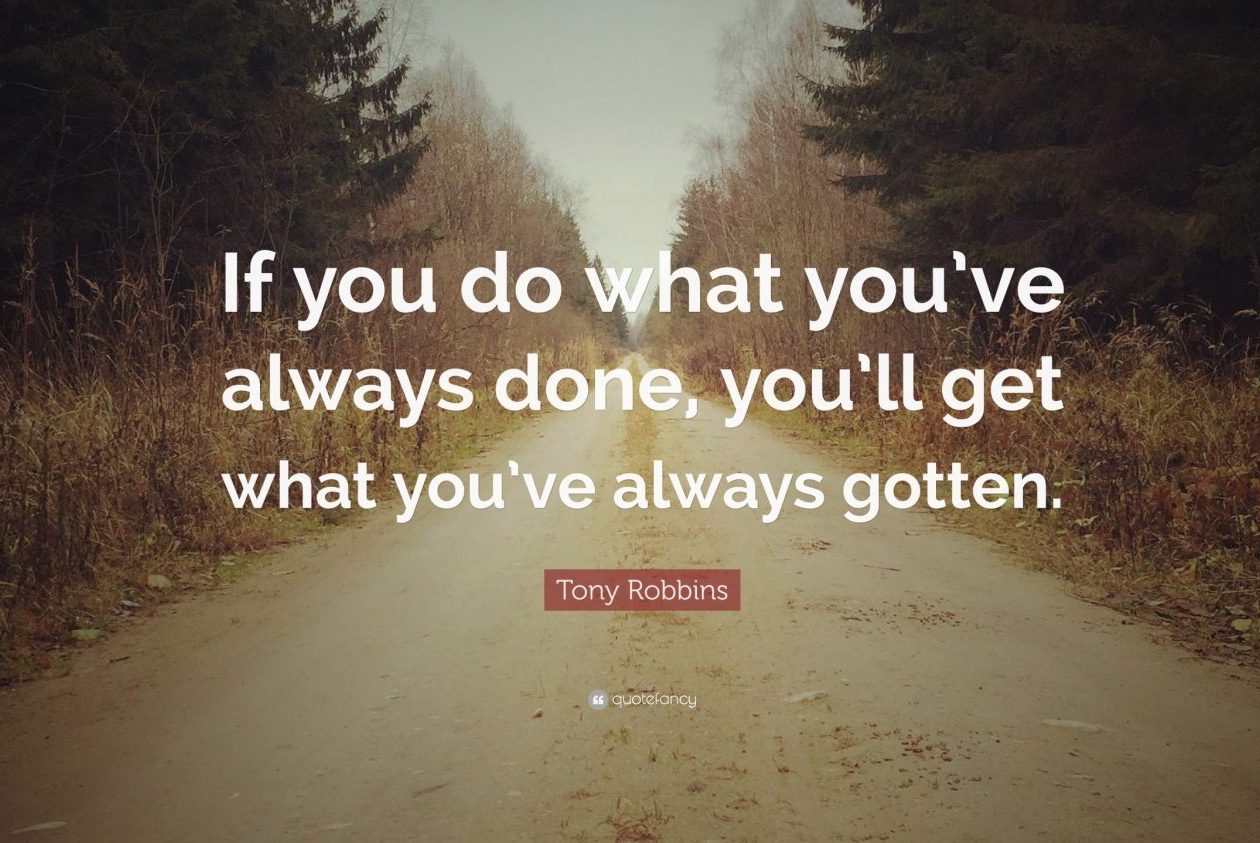 September 2021

Happy With What You are Getting?


Change. It's a surprisingly nuanced topic with many variations. Change is sometimes forced on us by external forces, sometimes it's something we choose.

And sometimes we choose it because we want different things in life or in a part of our life.

That's where motivational speakers and thinkers can come in.

I'm not sure when I first ran across the above quote. But it caught my attention and was making sense to me during a part of my own journey when I was struggling to make some changes in what I was doing in my business. Eventually I set up that little graphic and printed it off on some interesting paper I have. Because it was a useful reminder to me that although it's uncomfortable, change leads to meeting the goals I set for myself.

Because for me, unless I choose to make changes, I find myself taking the path of least resistance, which is the familiar one, which leads me to the same outcomes that aren't quite cutting it.

I heard the catch phrase long before I knew it was attributed to motivational speaker and writer Tony Robbins. Even then I still didn't know who he was. I only started learning about Tony Robbins a few years ago from other businesspeople and even clients. I had no idea what he taught, or even what he looked like, until researching him for this article.

So I am not setting him up as a role model or offering him praise. I'm not a fan, never read any of his books and would have to say I don't find his philosophies or lifestyle necessarily ones to emulate. But he clearly knows how to capture some good commonsensical truth into memorable phrases.

I do think this little statement contains truth.

And here's another one that might be helpful as well. Way back in college chapel one day, we had a seminary professor who spoke and said something that sticks with me to this day and seems appropriate here.

He said, "All truth is God's truth." That concept was in equal parts freeing and comforting. He might have been speaking back then about science or evolution, but his point was that the God of the universe created everything that is true, even though we are still discovering some of those truths. If God created it, we need not fear it, even if learning about it comes from unlikely sources.

How about you and your goals? Are you moving forward toward your goals, in life, business, writing, relationships or health? If not, are you trying to get new outcomes without changing what you are doing?

I'd love to hear your thoughts.

Originally sent as an email to the Buoyancy community on September 17, 2021.