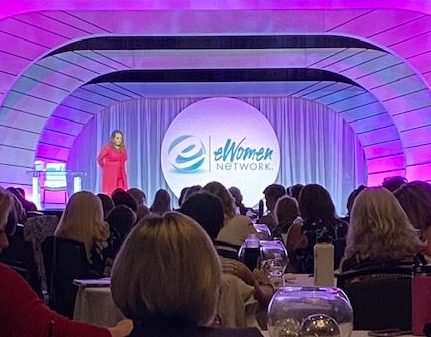 September 2022

How's Your Business, CEO?

We've commented here before that as an author, you need to think of yourself as a business or ministry organization, not just a person with a book. That viewpoint will affect a lot of your decisions and also, I believe, energize your efforts to share your story and tell others about your book.

And whether you are an author or not (or not yet), some of you are in fact already business or ministry executives, even if the organization is just you.

Last week I was in Dallas for a conference I've attended many years as a member of the eWomen Network, which bills itself as the premier organization for women entrepreneurs.

Some new ideas have been percolating for me since then, and I wanted to share a bit with you this week. And they are around that concept of your organization, especially since this was not a conference about books, or authors, nor was it a Christian conference.

The founder and CEO of this organization is a brilliant woman named Sandra Yancey.

Two key thoughts I especially wanted to share, and give all credit to Sandra.

In the same way that I mentioned thinking of yourself as a business or ministry organization, Sandra challenges people to think of themselves as a CEO. That means they have (or envision) a team to direct to get things done, they aren't doing everything themselves and they are thinking bigger, not just to getting today's tasks completed but looking ahead down the road.

Sandra Yancey also has another principle that takes a moment to comprehend and then years to perfect.
She says, as CEO of your business: Strive to do only the things that only you can do.

I may have mentioned this here before.

We all have things we are comfortable doing, many things we are good at. And those things might include organizing events or paying bills or scheduling social media ads.

But if you have a book to edit or a speech to write – only you can do those things for you.

Other people can buy ads or pay bills. Sometimes even better than you can.

Typically the things only you can do are the most vital to the growth of your business or ministry.

And another corollary to the Only You concept is that only you can be the mom or dad or spouse. So acting as CEO and freeing up time also allows you to have time to give to those precious people who no one else can parent or partner.

One final note. You may be reacting to this concept of having a team. That might be more in the future than right now, but you need to start thinking and dreaming about it. Here's something I found super helpful when starting my business because it was a way of framing the work and workers.

It comes from a decades-old concept from author and business trainer Michael Gerber, and I found it in one of his books called The e-Myth Revisited. He actually advises new small businesses that are a team of one to figure out all the jobs they will need for their business, write job descriptions, and understand each role – even though at the beginning they are doing all the jobs themselves. It's a simple and brilliant suggestion that moves us from being so organic about doing everything ourselves that we don't actually analyze it and realize we've gone from being the sales department to handling fulfillment when we sell a book and package it and take it to the post office because it's on our way to the gym.

That info is on the practical implementation side of becoming a CEO. For now, it might be enough to challenge yourself to think a few years down the road and start thinking about what tasks you do now that you could automate, get your kids to do, or hire out and free up a few hours a week for work only you can do.

Originally sent as an email to the Buoyancy community on September 2, 2022.