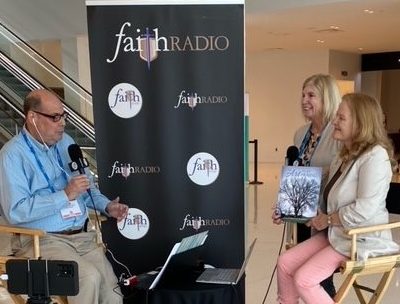 August 2022

More from CPE: "Where the Industry Does Business"

According to an article in Publishers Weekly, the August 14-16 Christian Product Expo (CPE) drew about 650 industry representatives and featured about 100 or more exhibition booths.

Our attendance brought us in touch with authors, publishers, and representatives of Christian media who were in attendance.

This week we're pleased to share with you the reactions of Buoyancy PR clients, Jill Zientek and Vicky DeMaio, co-authors of a forthcoming book, The Art of Our Healing, being released in October by Carpenter's Son Publishing.

Jill and Vicky (pictured above) attended to show to help promote their book to bookstores and also to meet and be interviewed by Christian media.

It was their first experience at the show and a good preparation for the days ahead.

One of Jill's reflections mirrored one of mine: the people there were upbeat and happy to be there.

"The thing that was noticeable to me was all the smiles and how happy everyone was," Jill said.

Jill called it a learning experience, including doing the interviews.

"I really enjoyed the interviews," she said, "and it was a learning experience, such as interviewing with a phone camera.

"Having had four interviews I feel helped Vicky and I find our groove as authors.

"Being there also helped me learn more about the book industry and I guess I really did feel more like an author. There were a couple of speakers that really spoke to me as a writer and author. I loved the one that told how you sell yourself as an author when you speak."

They also attended the Sunday night book signing event.

"On my end, I really enjoyed meeting new authors and attending the book signing," Vicky said. "It was fascinating to me to interact with many other authors during CPE who had written several books and find out what is really impacting people in the Christian arena. I learned many valuable tips from some of the keynote speakers as to how to promote your book if you are a new author like me!"

Held twice annually, the winter CPE 2023 show is scheduled for February 5-7 in Columbus, GA. Summer CPE 2023 will be held once again in Lexington, from August 6-8, 2023. CPE is sponsored by the Christian Retail Association, the industry trade group, and staffed by the Munce group.

Originally sent as an email to the Buoyancy community on August 26, 2022.