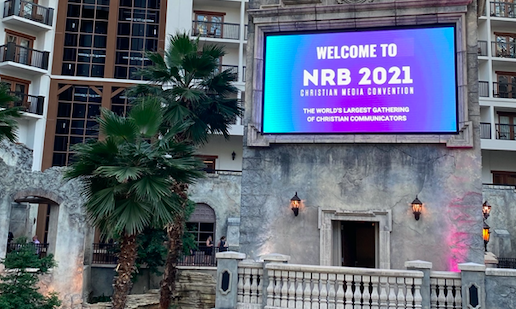 June 2021

NRB Provides Unparalleled Networking and Message-sharing Opportunities

Hello from Dallas, well, more specifically, Grapevine, Texas where the Gaylord Texan resort hosted the 2021 NRB convention.

From my perspective as an exhibitor and a person with author clients for whom we were coordinating interviews, it was a whirlwind of meeting people, sharing info on books, and meeting new media folks and finding ways we might work together.


The six authors Buoyancy PR was privileged to assist all had busy days and many interviews – we will tally things up and report more on that next week.

But for today, some snapshots in words and photos —

On the exhibition floor and in workshops going on around us, people were learning about new technologies and apps, and then there were the movie promos and celebrities.


The biggest evening draw was apparently The Chosen, a special event held to premiere episode six of season two of the highly regarded series on the life of Christ created through crowdfunding. I saw the swarm of people gathering when the doors opened, and later learned the NRB reported more than 1300 attended the showing.


NRB also usually includes some famous faces and names each year. Much of the time that doesn't catch my attention but this year I had a few experiences of my own. For starters, Pat Boone was there – and I got to shake his hand. There was a buzz about because he's going to be in an upcoming golf-themed movie called The Mulligan – and even at 87 he was making the rounds at NRB. I saw him briefly as he passed me coming into the press center, so I did take the opportunity to shake his hand as I passed him leaving the press center as I was coming in. In addition, there was buzz about Dennis Quaid, who will be playing Reagan in a 2022 movie by the same name, and was scheduled for a Q&A session.

One evening as everything was closing down in the media center, this kind of ordinary looking guy in jeans and a T-shirt wandered through, lost. My thoughts went from 'that guy looks like Dennis Quaid' to realizing that was in fact actually Dennis Quaid. And then to noticing he isn't very tall. There were just a few of us in the room at the time and we all just provided information and stayed impressively calm. No cameras involved.

However, I am, of course, talking about it here…

As is always the case with an intense time like NRB is for me, I'll be sorting out all the contacts made for the next few weeks, and doing several types of follow up. Lots of pictures this time and more next —

Originally sent as an email to the Buoyancy community on Junee 25, 2021.