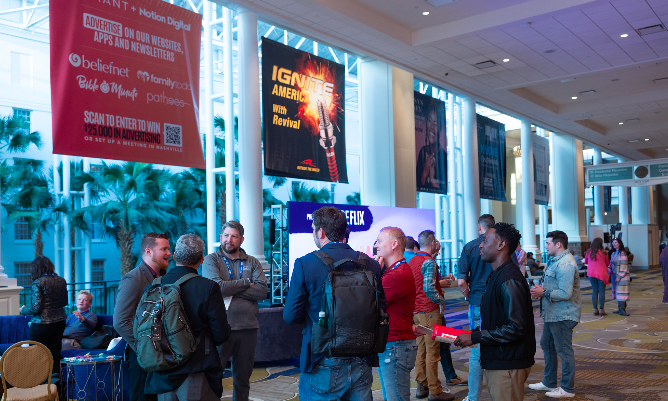 March 2023
NRB: You May Get Your Story Told to Millions
My favorite project is finally here.

If you read these notes from time to time, you may remember other times when I refer to NRB, the National Religious Broadcasters convention, which has kept the NRB letters but now describes itself as the "world's largest gathering of Christian communicators." This year, several thousand media and communication professionals from all over the world are expected to gather at the Orlando World Center Marriott May 22-25 for training, networking, worship, and fellowship.

It is my favorite project of the year not only for the excitement of sharing with Christian journalists and telling my authors' stories, but more than that — because God shows up. It is often an awe-filled experience to see the connections that get made on behalf of His Kingdom and a true honor for me to be allowed to play a small part.

Buoyancy PR exhibits at NRB to provide a select number of our author clients the opportunity to display their book on a large graphic in our booth, do a book signing and meet and give their book to media representatives, and above all, have access to the media center where a number of journalists are looking for celebrities and authors to interview. In the fast-paced few days at the show, preceded by weeks of work making contacts and appointments ahead of time, our authors typically have 10-15 interviews and make dozens more contacts with Christian media outlets.

Those media outlets often have audiences in the thousands or even millions so you never know where God will take your story.

It's a big investment, but it's a unique experience.

If you are an author thinking maybe you need to know more about this, please contact me as soon as possible as space is quite limited.

And if you live close enough to get to Orlando, you may want to mark your calendar and consider attending, even if for just one day, especially since NRB isn't often held in Florida.

It's a great way to learn more about this great media ministry world, and start making contacts for yourself.

While ticket prices will likely be changing as dates draw closer, you can attend one day of the expo only, and you can also buy NRB full or one day registrations. A full NRB registration costs hundreds of dollars, though, so don't buy your ticket yet if you have any interest in being part of the Buoyancy exhibiting authors group, as registration is included in the Buoyancy client NRB package.

For more information about NRB, contact nrbconvention.org.

Originally sent as an email to the Buoyancy community on March 10, 2023.