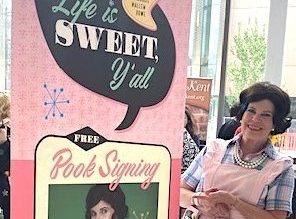 August 2022

Post-CPE Observation: Meet Miss Maggie, Y'all

I've written here before about author persona and deciding how you want to show up as an author. I mentioned the woman I remembered seeing once at a trade show wearing a velvet cape and hat.

Well, meet Miss Maggie.

This past week I was at the Christian Product Expo (CPE) and at their Sunday night author book signing event called Appetizers and Autographs*, I met Maggie Wallem Rowe, a publicist and speaker turned award-winning author. Her new book is called Life is Sweet, Y'all. The subtitle is "wit and wisdom with a side of sass." It's a devotional book disguised as a lighthearted gift book that includes tips and recipes.

But it was her appearance at the book signing event that caught my eye. I took some pix of her, and we chatted. She was delighted to think I wanted to tell you about her and her new book. She also told me about the YouTube book promotional spots her publisher, Tyndale, had created before the book's release. Inside the frame of a 1950s era TV, Maggie does one-minute spots that are advice from "Miss Maggie" and end with a Coming Soon shot of the book's cover. Of course it helps that she's a speaker and a performer, but then, so are some of you. If you Google her name plus YouTube you'll find a couple of the promos as well as some other things from her YouTube channel (and yes, social media experts do suggest authors have YouTube channels, but that's a topic for another time.)

Maggie, whose real-life photo shows her as blonde in a peasant blouse with dangly earrings, was in a wig and uniform and sensible shoes for the book signing event. She was noticeable and striking in a large room full of other authors who each had their own signing tables and attractive banners. But no one was doing it quite like Maggie.

And here we are talking about her. Some of you might want to check out the YouTube videos or even buy her book.

Her creative efforts prove the point about the potential of author personas and getting noticed. And perhaps it will spark some creative thought for you in promoting your own books or products.

I met Maggie at the event that was the highlight of Sunday, the first day of the three-day CPE conference held this time in Lexington, Kentucky. Overall, from my limited perspective, CPE seemed to go well. The space in downtown Lexington was attractive, large, and spread out – the Central Bank Center is the convention center attached to Rupp Arena – but the exhibit floor was easily walkable, and the atmosphere was upbeat. CPE is described as "where the industry does business" and that seemed to be the case as bookstore folks I saw heard about new products by visiting the booths of publishers and other vendors, and attended training events. Authors were also offered training sessions and were doing book signings, media interviews, and meeting industry representatives.

There were improvements to arrangements for the media who attended, and that number seems to be gradually increasing. CPE staff worked hard to make the media feel welcome and to accommodate their needs for interview space. That should help increase numbers even further in future shows for the benefit of all.

Buoyancy PR worked with some clients who had several interviews each, and made good media contacts for future interviews as well.

CPE occurs twice a year, and the next one will be the CPE Winter Show, February 5-7 in Columbus, Georgia at the Columbus Marriott. There should be some new info soon at cpeshow.com.

More next time on some other things I learned at CPE.

Originally sent as an email to the Buoyancy community on August 19, 2022.