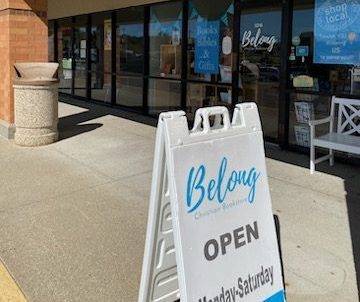 December 2022

Still Doing Christmas Shopping? Don't Forget to Support Your Local Christian Retailer

If you are an author or working on your first book, hopefully by now you've checked out the Christian bookstores in your area, or other types of specialty stores that might also include Christian books.

Christmas is a great time to shop at these stores for gifts you won't find anywhere else, ones that express our faith and joy in the season of Christ's birth. It's always uplifting to me to shop at these stores, where they are generally playing Christian music, and at Christmas time, making the most of celebrating this most special season.

I've started trying to visit Christian bookstores as time allows when I travel, and I make a point of making a purchase when I can. This industry is struggling and many stores have closed in the past ten years or so, since the explosion of online shopping. Some of the stores survive and thrive, however, and some new stores are still opening. I was excited when Belong Christian Bookstore opened a few years ago not too far from where I used to live in the Cincinnati suburbs.

I took some shots the last time I was back in the area, well before it was time for Christmas décor, but the store is always fresh and inviting and has a great location in a strip center with a Kroger grocery store, and is literally just down the street from the King's Island theme park.

If you haven't shopped at your local stores lately, check them out. And if it's not too busy, find out who the manager or owner is and introduce yourself and let them know you are an author and that you appreciate their store and ministry.

As an author, there's a lot to learn in these stores. Without having to look at every book on the shelves, you can get a sense of what new book topics are being featured on the end caps and special displays. See what cover designs are trending, and do check for other books in your genre or on your topic – you want to make sure your forthcoming book is unique. Sometime when it's not the busy Christmas shopping season, consider stopping by and asking the store manager or owner their opinion on what is selling or what people are asking for that they haven't been able to find to stock. There's a wealth of information that serves authors.

These stores are served by the Christian Retail Association, the trade association working valiantly to support this industry. We talk here periodically about the twice-annual Christian Product Expo, where publishers display books, bookstores come to order them, and authors do book signings. In addition, sessions for training and worship bless attendees. The next one of these events will be February 5-7, 2023, at the Columbus Trade Center, in Columbus, Georgia. You can attend as a guest without being a trade association member, and if this is close to you, you should consider attending it to learn more about the industry and make contacts. For more information, visit the website — https://www.cpeshow.com/winter-2023.

One more thought on Christmas shopping. If you are an author, of course you know books make great gifts, so I trust you are making the effort to remind people about your books. Don't assume your circle of friends will remember your books — remind them. Because many people you know have people for whom they are struggling to find a gift. Your book might be just the perfect thing for Uncle Harold or Aunt Maybelle. Make sure you are posting reminders about ordering your books on your social media platforms, and as possible, offering autographed copies or discounts on multiple purchases.

With Christmas joy,

Originally sent as an email to the Buoyancy community on December 9, 2022.