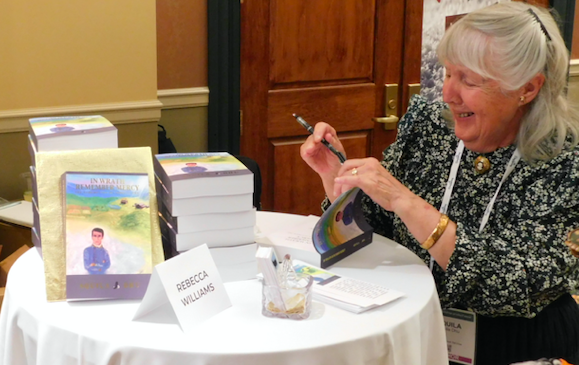 August 2022

She's Doing a Book Tour in Colorado and Wyoming

A big trip is on the horizon for one of our authors, Aquilah Dhu, who lives in Colorado. She will travel hundreds of miles between one side of her state and the other and then going north into Wyoming to meet folks in at least six locales, doing book signings in bookstores as well as speaking for one museum. She'll be gone over a week and make a big circle while winding her way back toward home.

It's going to be a lot for her to do but also will provide a priceless opportunity to tell readers about her historical fiction novel, In Wrath Remember Mercy.

The work of coordinating all of this is a bit daunting, but we trust it's going to be quite worthwhile.

So far, it's also been a lot of work for us in the Buoyancy PR shop (kudos to Diane!). The past couple of weeks, we've been busy with research and scheduling phone calls as well as conferring with the author. While thinking through logical driving routes and driving distances, we have been pulling up maps on our phones and sometimes consulting the old-school paper atlas (as a Midwesterner who moved south, my Wyoming and Colorado pages are intact, unlike the pages of maps to where I travel most often—Wisconsin, Illinois, Indiana, and Tennessee.)

Here are a few observations about the experience of booking these events. I think we might revisit this topic later in September after the tour to get the author's thoughts on how it went, and lessons learned.

1.    Bookstores in these areas were happy to consider in-store events again. Whether it's because they are relatively far-flung locations or just liked the idea of the book (an historical novel that includes some about settling the west), if they were doing events, they talked to us.
2.    Her tour includes both Christian bookstores and non; Barnes and Noble events appear to be back.
3.     It can take awhile to connect with the right person at the store, so plan time (and patience!) for waiting for callbacks and following up multiple times but once you do, decisions can be made quickly.
4.    And plan on scheduling one-two months out. Some stores may also want to see a copy of the book before they will agree to the event, so factor in time for that as well.
5.    You might want to craft a bit of a script of what to say. In this instance, we said, "our author is going to be coming through your area on a book signing tour and we'd love to have her visit your store too. Are you doing in-store events and if so, do you have availability in August?"
6.    Sometimes the store will want to order the books in from the distributor (most of our clients are distributed by Ingram; you need to know this info about your book). But some, especially smaller stores, are happy for the author to bring the books.
7.   Chat with the store also about keeping some books to sell, and offer to sign them, unless they prefer that you not.
8.    The author should have, as ours does, materials to set up in the spot where she will be doing the signing. Materials could include a sign, bookmarks, business cards, and maybe some snacks to share. This author is opting for Andes mints. And don't forget your signing pen – a fine point Sharpie is a favorite of many authors.
9.    The store should be able to provide a table and chair, sometimes an easel, but you might want a tablecloth. And you should think about your presentation a bit – have blue on your cover? Perhaps then a blue tablecloth or accent color from your cover would be good for that. You might consider props or handouts as well.
10.   Some stores may want you to do a bit of reading, or talk for a few minutes.
11.   The store may provide some in-store (or online) publicity, but you should also do your own social media announcements and a news release if you know how to do that, or if you have a publicist to send news releases to local news media a week or two ahead of time. If you are going to be doing a news release, be sure to let the stores know you are doing that and mentioning their store as that's a bonus for them.
12.   And then… don't expect too much. Authors often have pretty quiet experiences in stores where there aren't many customers, or no one will engage. Plan on doing your best to create interest in what you are doing and chat with folks as they come by.

In an earlier post, we outlined some steps about doing local book signings, and that may offer some other info you might find helpful.

We'll be back to this topic later with lessons learned.

Originally sent as an email to the Buoyancy community on August 12, 2022.